Zoned digging introduced at The Gann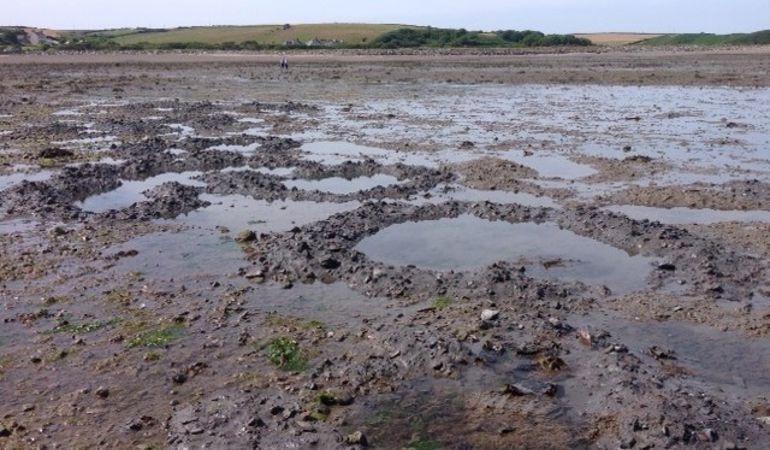 Natural Resources Wales (NRW) has introduced dig and no-dig zones at The Gann, Pembrokeshire in order to protect its biodiversity.
The Gann is a Site of Special Scientific Interest (SSSI) found within the Pembrokeshire Marine Special Area of Conservation (SAC) and is used heavily for bait digging.
There have been concerns for some time that the large scale digging has the potential to impact on the biodiversity of the Gann.
Following recent partnership work NRW may now be a step closer to managing these impacts.
Recreational digging requires no licence because anyone can dig for bait that is for personal use whereas commercial diggers need the land owner's permission.
Problems arise when commercial diggers try and pass themselves off as recreational because the two are very hard to tell apart.
The environmental damage caused by uncontrolled bait digging is not a problem unique to the Gann so any management strategy must address commercial and recreational digging equally.
NRW was very fortunate in that The Pembrokeshire Marine SAC Relevant Authorities Group (SACRAG) were able to fund a review which considered case studies from across the UK.
This proved to be invaluable in understanding the different options available to us and where the responsibilities lie.
Sue Burton, Pembrokeshire Marine SAC Officer, organised a series of meetings where stakeholders agreed to zoning the beach into 'dig' and 'no dig zones'. 
Restricting bait collection through zoning will eventually require a byelaw or statutory instrument to back it up. A voluntary code will be used until byelaws are put in place.
Chris Lawrence, Senior Conservation Officer for NRW, said:
"Safeguarding habitats like this is one of NRW's main priorities.
"The area is used by local businesses and residents alike so it's important to protect the local habitat and biodiversity from excessive digging"
"Implementing the zoning plan will help protect biodiversity at the Gann and encourage habitat recovery while continuing to allow recreational digging activities and support industries like fishing."
NRW completed a review of the available science during the summer of 2015 and with help from partners, investigated the wildlife of The Gann, both at the surface and within the sediment.
Early results indicate that the lower, sandier shore has a high level of species including red algae, peacock worms and sand mason worms.
The upper muddy/gravel shore had the highest levels of bait digging and lower amounts of species were recorded there.  
Work is being done to determine whether this is because of the digging activity on site or a natural difference due to shore height.
In future, NRW hopes to repeat the survey to ensure the efficiency of the code of conduct and ensure that any additional or alternative management measures are based on solid evidence.
A sign was put up to inform bait collectors of the new code and NRW have begun activity monitoring to ensure people are following the new rules.