Porthmadog Flood Risk Management Work
 Credit to NPAS (National Police Air Service)
Managing flood risk in Porthmadog, Tremadog and river Glaslyn catchment
This winter's periods of heavy rainfall show us, once again, that the way flood risk is managed is a constant concern for many communities in Wales, including Porthmadog, Tremadog and the Glaslyn river catchment.
Building on many years of work in the area, we are now redoubling our efforts to find sustainable ways to manage the long-term flood risk within your community.
Key to doing this is working closely with everyone in the local community. Your input will be vital so that plans take full account of your local knowledge, concerns, ideas and aspirations. Partnership is at the heart of the approach we want to take.
As a first step, we would like to hear from you about your experiences of flooding over the years.
During this challenging time of the Coronavirus pandemic, when we can't meet face-to-face, we can start the conversation with you by phone, email or web meeting – whatever suits you as an individual or group.
Why do we need to look at Porthmadog, Tremadog and river Glaslyn catchment?
As the climate changes, it is anticipated that this area - like many other coastal communities across Wales - will face more frequent storms and heavy rain as well as rising sea levels.
Maintaining the current level of flood protection is a challenge, which we need to review together, given the low-lying land, aging flood defences and taking account of the area's important natural and historic features.
What is the flood risk?
We are currently updating the flood risk model for the Y Cyt and Glaslyn river catchments, giving us the latest understanding of current and future flood risk.
As part of updating these models, we have re-inspected and re-surveyed the area's flood defences and calculated peak river flows.
The outputs from this study, available in late Spring 2021, will be shared with everyone, explaining what this means for the community.
How to share views and ideas with NRW?
We are now eager to discuss this work with you - who know this area better than anyone.
As a start, please get in touch to share your experience of flooding and give your initial views and ideas about managing flood risk for the future.
Please send your comments and enquiries to this email address: Porthmadog.floodrisk@naturalresources.wales  
Or you can speak to us on the phone by contacting Sharon Parry, Project Team Support Officer (Welsh Speaker) on 03000 65 5264.
Sharon can arrange for you to discuss the work with our Project Manager, Andrew Basford (Welsh learner) or Project Senior Adviser John Meirion Davies (Welsh speaker).
If you would like Andrew or John to join your group through an online meeting, Sharon can organise that too. 
If you would like Andrew, or John, to join your group through an online meeting, please get in touch with Sharon who will make the arrangements.
Beyond this, when it is safe to do so, we will hold drop-in sessions in the town to share all your comments and feedback and allow further opportunities for discussion.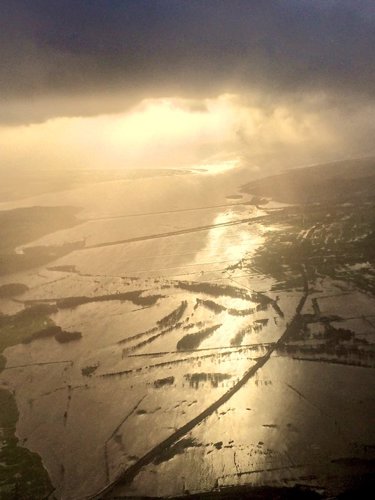 Credit to NPAS (National Police Air Service)
More background
Who is responsible for managing the area's flood risk?
Gwynedd Council is the Lead Local Flood Authority (LLFA) for this area, responsible for carrying out investigations into flooding and keeping a register of flood risk assets (structures designed to reduce flood risk management such as embankments and outfall pipes).
As the LLFA, Gwynedd Council works closely with other risk management authorities including Natural Resources Wales and Dwr Cymru/Welsh Water in carrying out their duties.
There are various sources of flood risk in Porthmadog and Tremadog - from the sea, watercourses surface water and, also, from groundwater and wastewater.
Gwynedd Council has powers to manage flood risk from surface water. For example, overspills from highway culverts and gullies and flooding from local watercourses.
Natural Resources Wales has powers to manage the risk of flooding from main rivers and the sea - including the Y Cyt, the Glaslyn and ditches within the Glaslyn Pensyflog and the Llanfrothen Internal Drainage Districts (IDDs).
Within each Internal Drainage District, rates are levied from landowners and Gwynedd Council to deal with matters that affect drainage and flood risk. Each IDD has an Advisory Group. Working with landowners, NRW carries out general supervision over all matters relating to drainage within each district.
Dŵr Cymru/Welsh Water is responsible for managing flood risk from waste-water outlets.
Ongoing partnership working between all three parties, and with others, is vital so that all services are joined up to help manage the risk to the local community from flooding.
The national context
Any decision about the future of flood defences within Porthmadog and Tremadog will take into account the West of Wales Shoreline Management Plan, which provides the framework for managing the long-term impact of tidal flooding across Wales.
The Shoreline Management Plan for this section of coastline recommends a policy of 'Hold the Line' over the next 100 years. Holding the line is an approach to coastal management where coastal defences are maintained, often through a combination of engineering methods.  
The solution must also ensure the sustainable management of natural resources in line with the Well-being of Future Generations (Wales) Act and the Environment (Wales) Act. There is more information about all these policies on the NRW website.