The purpose and role of the Woodland Estate
In July 2018, we published a report on the purpose and role of the Welsh Government Woodland Estate (WGWE) over the next 25 years.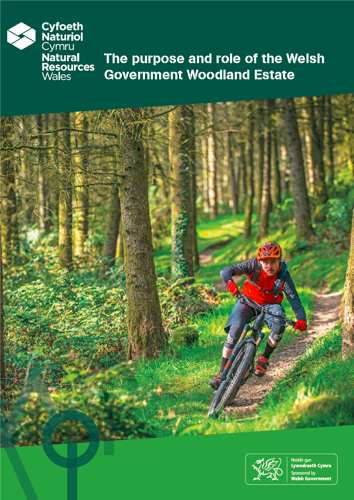 The Report 
The report contains:
A Foreword by the Minister for Environment that sets out four ambitious principles for the Estate;
A clear statement about the purpose and role of the Estate;
A list of 10 key priorities for managing the Estate;
An overview of the Estate and the benefits it provides;
A discussion about main challenges and opportunities looking ahead, for example in relation to climatic change and pests and diseases;
An explanation of how the purpose and role will be delivered, in partnership with others, and how progress will be monitored over time 
The purpose and role of the WGWE is framed in the context of:
The UK Forestry Standard, the reference standard for sustainable forest management in the UK;
Welsh Government's Woodlands for Wales strategy which sets a 50-year vision for all woodlands in Wales; and
The legislative framework in Wales, principally the Well-being of Future Generations (Wales) Act 2015 and the Environment (Wales) Act 2016 
The report is supported by a series of case studies which demonstrate the multiple well-being benefits that are generated by the WGWE, and how these contribute to delivery of sustainable management of natural resources (SMNR).
The Woodlands for Wales strategy
Welsh Government published its third edition of Woodlands for Wales strategy in June 2018. Our report on the Purpose and Role of the WGWE explains how actions on the estate will support delivery of the strategy. We have a critical role to play in delivering the strategy as the WGWE represents around 40% of the Welsh Forest Resource, covering an area of 126,000 hectares.
Next steps
Looking ahead, we are determined to make the WGWE the best it can be. As we are managing the WGWE for the well-being of Wales, we will also increasingly look to work in collaboration with others to achieve this. We already work with the forestry sector, renewable energy providers, local businesses, communities and charitable organisations, but will look for new opportunities to deliver place-based priorities as well as national ones.
The WGWE is a treasured feature of the Welsh landscape. We encourage you to read the full report and become part of the story of its future.
Further information
If you would like to contact the Sustainable Forest Management Team in Natural Resources Wales you can send your enquiry to sfmt@cyfoethnaturiolcymru.gov.uk
Related document downloads