Dee Estuary Cockle Fishery
Find information about how we regulate commercial cockle harvesting in the Dee Estuary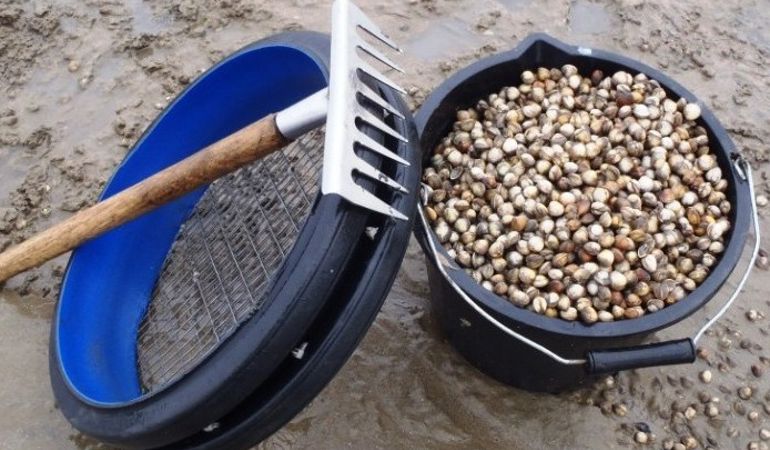 Members of the public can take up to 5kg of cockles a day for personal consumption if the cockle beds are open, but commercial harvesters must have a licence to gather cockles.
What we do
Natural Resources Wales manages the cockle fishery on the Dee Estuary in a sustainable way by issuing licences to those eligible to harvest cockles. Currently we issue 53 full licences each year, based on how many cockles our stock survey says can be sustainably harvested.
We have been able to open the fishery every year for the last 8 years by:
taking enforcement action to protect the cockle beds from illegal harvesting
implementing our Dee Estuary Cockle Management Plan
consulting with licensees over developments to the Cockle Regulating Order and Management Plan
working with other organisations to reduce unsustainable harvesting of the cockles
How do I apply for a licence?
All 53 licences have been issued and we don't think that further full time licences could be issued at current cockle levels, without damaging the beds' ability to regenerate the harvested stocks.
Should a licence become available, we will advertise in suitable press/media and invite applications. Details on how to apply and the paperwork required can be found by clicking on the following links: application form and 'Fit and Proper' Person's Form FPPA.
Why do we need to regulate cockle harvesting in the Dee Estuary?
Before the Cockle Regulating Order was made in 2008, the Dee estuary cockles had suffered from a series of boom and bust years. Over-harvesting when stocks were plentiful resulted in years when no cockles could be collected.
The 2008 Order allowed us to regulate the fishery to provide a stable income for professional cocklers, to improve safety and to create a sustainable fishery. This has resulted in the beds being opened every year since the Order came into force, and has seen stabilization of wide fluctuations in the cockle stock.
The success of our management plan and its effective implementation has been recognised by the Marine Stewardship Council, which awarded the Dee cockle fishery a certificate of sustainability in 2012. It is only the second common cockle fishery in the world to receive this award.
The Dee Estuary Cockle Fishery Order 2008 can be found by clicking on the link - also check out this MAP
The Dee Cockle Fishery Several and Regulating Order Management Plan and Licence Allocation Procedure can be found by clicking on the link.
The Dee Estuary Cockle Fishery Endorsement Procedure can be found by clicking on the link.
The Dee Estuary Cockle Fishery Enforcement and Sanctions Guidance can be found by clicking on the link
Related document downloads