Climate change – adaptation and mitigation across all four themes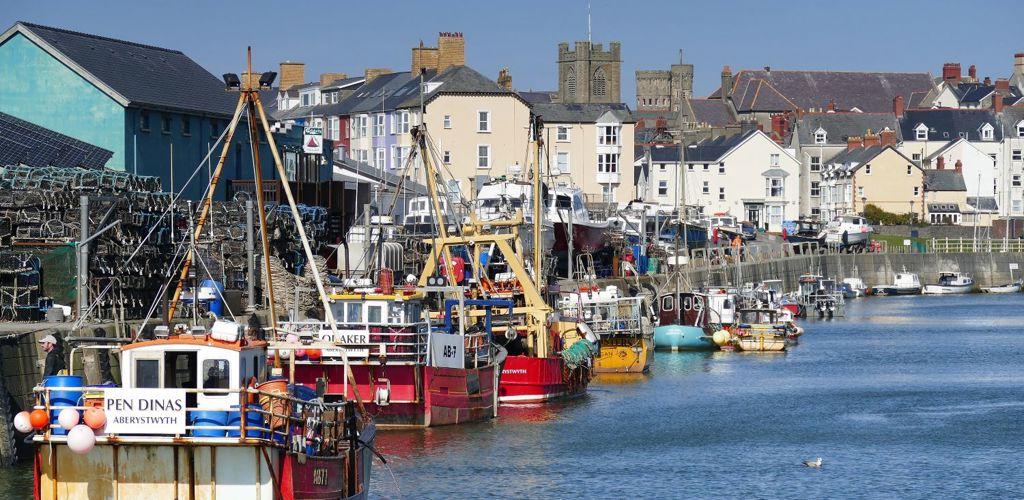 These Area Statements summarise discussions from the last couple of years. We are continuing engagement on Area Statements and are adapting our plans for future events and workshops due to the coronavirus pandemic. Please use the feedback boxes on each Area Statement page to find out more.

Most of the car parks and trails in our woodlands and nature reserves are open.

For updates on what's open, see our page on visiting our sites during the coronavirus pandemic.
Climate Change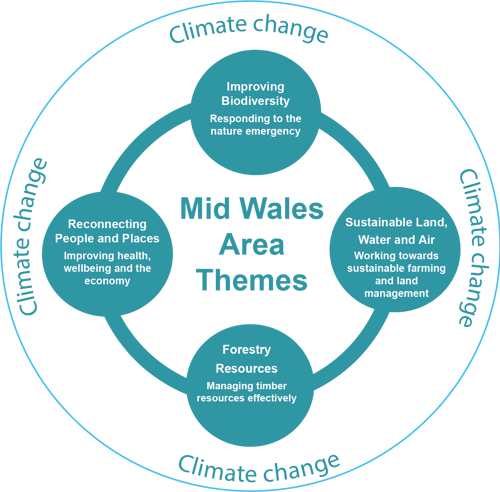 The Mid Wales Area Statement consists of four main themes, which are:
Rather than creating a fifth theme focusing solely on climate change, Natural Resources Wales (NRW) want to ensure that everything delivered through the Area Statement takes account of the climate emergency, forming part of our response to it.
Climate change is one of the defining issues of our time. From shifting weather patterns threatening food production to rising sea levels and the prospect of catastrophic flooding, the impact of climate change is global in scope and unprecedented in scale. Immediate, effective action needs to be taken. Trying to adapt in the future will not only be more difficult and costly but also potentially too late.
Human influence on the climate system is clear. Emissions of greenhouse gases stemming from human activity (sometimes referred to as anthropogenic emissions) are the highest in history. Recent climatic events have had a widespread impact on human and natural systems.
Adapting to change is going to require action across all levels of society. Here in Mid Wales, organisations and individuals need to alter their behaviour to reduce greenhouse gas emissions and to become more resilient to the impacts of climate change.
The climate emergency challenge we all face will encompass everything that we do to achieve the sustainable management of natural resources. We need to work in a way that promotes action which mitigates against the effects of climate change. We must support our natural environment and build resilient communities that are adaptable and fit for the future.
The effects of climate change are already well underway in Wales. Coastal areas are facing an ever-increasing threat from rising sea levels. In the near future we can all expect to see more intense rainfall together with flooding in low-lying coastal areas. Our summers are likely to become hotter and drier. Projections also foresee more extremely warm days, milder and wetter winters, less snowfall and frost, as well as lower groundwater levels. The impact on Wales' natural environment is likely to be significant and irreversible. We need to act now to protect what we have. 
Looking ahead, we need to talk more about climate change if we are to build a greater understanding of the local issues. We want to have a conversation that people can relate to. It needs to be a new kind of conversation, one that involves people from as many backgrounds as possible and adds a community perspective to the climate emergency debate.
In developing the Mid Wales Area Statement with stakeholders, NRW is looking for opportunities under the area themes to adopt appropriate measures that will take account of and reduce the impacts of the climate emergency that we are facing.
This will not always be an easy task, but by presenting the climate emergency in this way it will help us all to think differently, consider the impact of our actions, and respond to evidence in planning. It will also help us embed the reality of the climate emergency across the breadth of the work we do.
As with all aspects of the Area Statement process, this approach will be kept under review as NRW starts collaborating with stakeholders.
Give your feedback