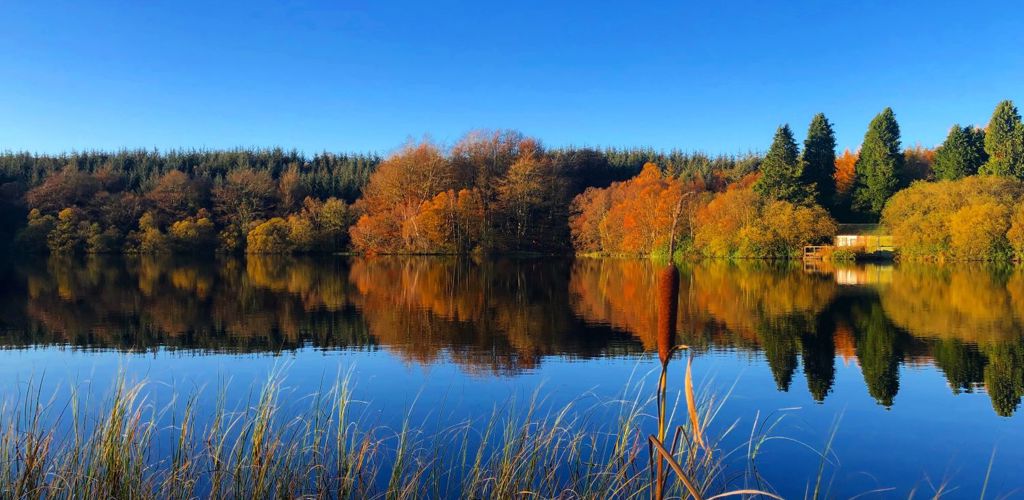 These Area Statements summarise discussions from the last couple of years. We are continuing engagement on Area Statements and are adapting our plans for future events and workshops due to the coronavirus pandemic. Please use the feedback boxes on each Area Statement page to find out more.

Most of the car parks and trails in our woodlands and nature reserves are open.

For updates on what's open, see our page on visiting our sites during the coronavirus pandemic.
Why this theme?

It's a well-known fact that woodlands and trees provide a variety of benefits to society. They help regulate our climate, provide income and jobs from timber and other activities, store carbon, reduce flood risk, safeguard soils, improve air quality, reduce noise and even regulate pests and diseases. They play a major part in pollination, nutrient cycling, soil formation, water cycling and oxygen production, all of which are crucial to supporting ecosystems and human life. Studies have also shown that there are significant positive links between mental and physical well-being and trees and green space in urban areas.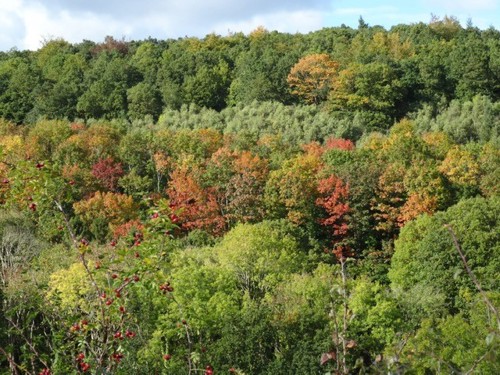 Image by Carol Owen


Here in Mid Wales, we have a diverse mix of woodland and forestry resources including large-scale upland conifer forests, small scattered native woodlands and shelterbelts, estate woodland, wood pasture and parkland habitats. The Welsh Government Woodland Estate (WGWE), which is managed by Natural Resources Wales (NRW), extends over 50,000 hectares of publicly owned land (85% of which is designated as open access land), making a valuable contribution to our environment, economy, social health and well-being. In Mid, we have the highest productive forest holding in Wales, providing 350,000 cubic metres of timber every year to Wales' wood processing industry (almost 40% of the certified timber originating from the WGWE). This contributes significantly to the rural economy, supporting several wood processing companies. These forests in Mid Wales is grow annually, ensuring that we will continue to have a sustainable forestry resource in the future.
Mid Wales is also renowned for its remote moorland uplands which, during the 20th century, lent itself to large-scale forestry planting, much of which was planted on areas of deep peat, inadvertently damaging the upland habitats.  
Elsewhere, lying within the Mid Wales WGWE, you will find the Bwlch Nant yr Arian Forest Visitor Centre near Aberystwyth, a popular attraction boasting footpaths, mountain bike trails and outdoor family activities, not to mention the daily afternoon spectacle of red kites coming down to be fed. These WGWE woodlands are generally dominated by Sitka spruce, Douglas fir, larch and pines as well as an increasing number of native broadleaf and mixed forest on lower lying ground.
Despite the rich forestry resource in Mid Wales, as a country we still import 63% of softwood and 94% of hardwood timber. Forecasts of future timber production in Wales show a reduction in current levels if we fail to utilise more areas and increase woodland cover. In recent years, felling due to tree diseases has affected the forest landscape, although in some places conifer forests have been replaced with broadleaved trees, enhancing the environment. Unfortunately, tree diseases such as ash dieback will have a significant effect on the many species of wildlife associated with ash woodland.


Image by Ian Medcalf


Habitat loss and fragmentation of native woodlands in Mid Wales has been going on for over 1,000 years, mainly as a result of clearing land for agricultural production. Grazing management is a key issue with many woodlands, particularly so in the upland oak woods. Regarded by some as the 'Welsh rainforest', 60% of the native woodland area in Mid Wales comprises upland oak woods, recognised for their high biodiversity and cultural value. However, a combination of re-growth following extensive 20th century wartime clearance felling and an interruption in traditional management has resulted in many woodlands being in poor condition and lacking structural diversity, whereby all the trees in the woodland are even-aged.
Pollution also affects woodlands, a significant factor being nitrogen deposition from both local and remote sources, for instance agriculture and heavy industry respectively. The upland oak woods with their high diversity of lower plants are especially vulnerable to the effects of nitrogen deposition.
Climate change will inevitably affect Welsh woodlands in the future, with current predictions suggesting a likely increase in pests and diseases. A potentially drier, warmer climate in some areas may impact on existing species such as Sitka spruce, but also present opportunities to plant high yielding species such as Douglas fir in the uplands. 
While Sitka spruce is undeniably one of the most economically important forestry crops in Wales (and natural regeneration can benefit the forest industry), self-seeding outside forest boundaries can have a damaging impact on the surrounding open upland habitats and protected sites.
The main areas of focus within this theme are:
Managing forest resources sustainably, while also supporting the timber industry


Increasing woodland cover with conifer, broadleaved and mixed woodland, following the 'right tree, right place' principle (which ensures that important areas that are already storing significant carbon, support priority habitats and species, or are protected sites are not planted with trees where there are negative effects on the interest of the site)


Supporting training and local employment opportunities in forest management and skills


Valuing woodlands for their commercial, recreational and biodiversity value


Adapting to the impacts of tree disease and climate change


Working with policy makers to balance the need for re-stocking upland forests whilst avoiding damage to natural peatland habitats


Seeking opportunities for carbon capture and storage through well managed woodlands
These focus areas should serve as starting points against which NRW can establish work programmes, external projects and build better collaboration between stakeholders and partners. However, we remain open to incorporating any emerging issues or new ways of working in this Area Statement.


What would success look like?

Well-managed woodlands contribute significantly to connecting habitats across the Mid Wales landscape. The forestry and woodland estate is vast. As such, it provides ideal opportunities to work with landowners, farmers, conservation groups and the forestry industry to enhance natural habitats, manage timber resources sustainably and promote the health benefits of recreation & access to communities.
Through the engagement events we have listened to stakeholders and heard their stories and lived experience of mass forestry creation of the past, forestry skills that run through families, and current and future threats. We have also heard how, working together, landowners can benefit from the need for increased tree cover, providing the issue is approached from a different angle.
This Area Statement lays the foundations for the following new approaches to be taken:
A range of conifer and mixed woodland planting to provide connectivity for biodiversity and communities across Mid Wales (a significant proportion of new trees can be integrated into existing land uses, for example by planting in field corners and hedgerows)


A skilled, environmentally aware workforce that manages forestry operations sustainably


Promoting the widespread use of Welsh timber in the construction industry


Build resilience against tree disease outbreaks


Communities proactively engaged with their local woodland and its management


Reducing carbon emissions from the forestry industry and increasing opportunities for carbon capture and storage 


Who have we worked with to date?

Natural Resources Wales (NRW) worked on a range of information including the State of Natural Resources Report (SoNaRR) which forms part of NRW's evidence base, information from the Powys and Ceredigion Well-being Plans, expert local knowledge and Public Service Board (PSB) priorities. NRW took the 'bare bones' of what were considered to be the main issues in Mid Wales and let stakeholders tell us whether, in effect, we'd 'got it right' during the external engagement workshops. These workshops were very much the start of the stakeholder engagement process. However, the conversation remains ongoing as the Area Statement process evolves by way of collaboration and the establishment of local networks.
In total, over 125 participants took part in the two workshops, from a wide range of backgrounds and interests. 
We analysed what stakeholders and partners told us during these events, listening to what they believe are the main issues in Mid Wales. At some events, it was clear that reaching a consensus wasn't going to be easy. Discussions were often lively and passionate, with insufficient time to effectively tackle some of the bigger issues. This is something we are aware of and will work to address as our engagement continues.
Despite many sectors being well represented, NRW is aware that we need to broaden the appeal of Area Statements beyond what you might call the 'usual suspects'. Communities and the non-environmental sector must be involved. We have always recognised how important engaging with communities is, and we are in the process of considering how best to do that in order to make the most of the opportunities that have been discussed to date. In future we will be encouraging and supporting these  communities to come together to help shape and deliver the Area Statement for the benefit of everyone.
It is very clear, judging from our engagement to date and the feedback we've received, that the Area Statement process represents a culture shift. Everyone, including NRW, is going to have to adjust to this new way of working. It's a challenge, but one we all need to embrace for the future sustainable management of our natural resources.
We will continue to engage with stakeholders, helping them understand why they have been invited to become part of the Area Statement process, along with what it means for them. Having completed phase two of our engagement in January 2020, the next stage is to establish and implement some deliverable actions in Mid Wales. It is likely that further new ideas and opportunities will develop as the conversation evolves.
The next focus will be planning some  'peer group' meetings for spring 2020 with key people in Mid Wales. We want to encourage those who took part in the previous engagement workshops to share their views around a specific area theme. This will help us discuss with them how we can start to plan to deliver together what we have set out to achieve in the Area Statement.
It is not too late to still get involved if you have a good project or idea for a project! We expect further opportunities to arise as the engagement process continues.


What are the next steps?

Good practice should be celebrated and learned from. This can already be seen across Mid Wales in the work being led by stakeholders. Going forward, the Area Statement requires us to share information and understanding, while also coming up with innovative ways to address challenges. NRW has already begun to identify networks where projects following similar paths can unite and collaborate. We want to encourage stakeholders who traditionally might not have worked together, to join up and explore the potential to deliver better outcomes through joint working.  
Conversations will, of course, continue as the next phases of the Area Statement are established, with further events being tailored to specific themes.
Potential opportunities that have been identified relating to this theme are:
Working with commercial bodies, stakeholders and educators to develop accreditation qualifications within the workplace in environmental and sustainable forestry


Seeking solutions with policy makers to the current replanting requirements that impact peatlands and other sensitive habitats


Developing a series of pilot projects to start to address the need for increased tree cover


Exploring areas for woodland creation and compensatory planting


Considering policies promoting the use of Welsh timber by the construction industry


Seeking opportunities for carbon capture and storage through mixed product managed woodland


Exploring opportunities to promote the use of local sawmills


Working collaboratively to develop a more holistic approach for woodland management and biodiversity improvement


Identifying opportunities for improving connections between communities and their local woodlands


Producing data and evidence on the impact of tree disease and climate change,and implementing practical mitigation measures 


How does what we've proposed deliver Sustainable Management of Natural Resources (SMNR)?

The State of Natural Resources Report (SoNaRR) uses evidence to assess Wales' natural resources, measuring how well they are being managed. Area Statements play a key part in that management process, allowing us to make decisions based on evidence that is shared. Gaps in that evidence can then be plugged by working together, using available data to further the objectives of each theme.
The underlying principles of SMNR are, in effect, the essential element of the Area Statement process. By talking to stakeholders, we've been able to work together identifying themes that really reflect the issues within Mid Wales. Those conversations have given us a better understanding of the issues and pressures we face. We hope this approach signals a new way of working for NRW, moving away from consultation towards collaboration. It may be an unfamiliar journey for some, especially to begin with, yet given what's at stake it's a necessary one.


How can people get involved?

One way of finding out more will be through our Mid Wales Facebook page which contains news and developments surrounding the Mid Wales Area Statement. The group is currently set to 'private' although we encourage people to spread the word amongst colleagues and contacts who may be interested. In order to join the group, and to ensure the content is kept relevant to the Area Statement, you will be asked three simple questions. 
Should you wish to find out more about the Mid Wales Area Statement, or join our mailing list, please email us at mid.as@naturalresourceswales.gov.uk or mid.as@cyfoethnaturiolcymru.gov.uk


Maps of the area

Please note that our maps are not accessible for people using screen readers and other assistive technology. If you need this information in an accessible format, please contact us.
National Forest Inventory Mid Wales (PDF) 
shows areas of forest and Welsh Government Woodland Estate


Give your feedback