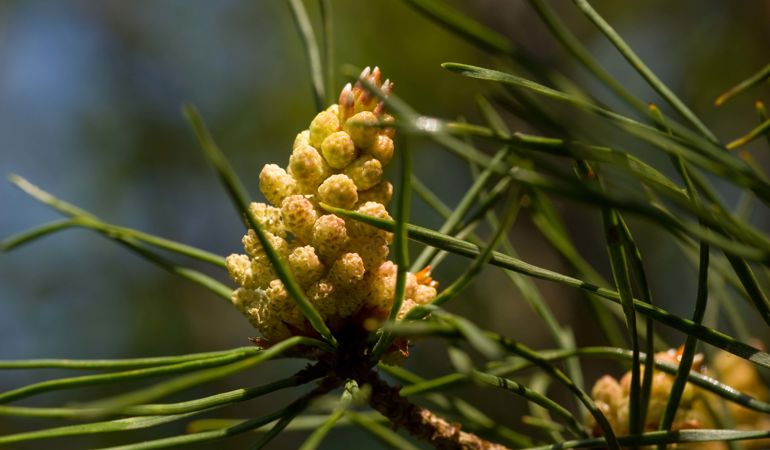 Woodland diversity can be achieved by increasing the range of species, making better use of species already being favoured and creating appropriate mixtures at a stand, woodland or landscape scale. Mixed woodlands are likely to be better able to cope with a changing climate, because we will not have 'all our eggs in one basket'.
Climate change and diversity
The predicted changing climate will lead to some tree species growing better in Wales than they have in the past, with others doing less well, due to drought stress or pest attacks, for example.
We can make reasonable predictions of which species may do better or worse, but the future is uncertain, so planting a wider range of species is our best 'insurance policy' that some will do well. We are already moving in this direction, with the range of species planted increasing.
The scale of diversity
Diversity can be achieved at a range of scales and is not just an intimate mixture within every patch of woodland. The most suitable scale will depend on the objectives of the forest manager and the site characteristics. Similarly, deciding on species suitability will require a consideration of the same factors.
Challenges to diversity
One of the biggest challenges to increasing species diversity in existing woodlands will be the requirement to push the boundaries of the exposure, soil type and climatic zone. This will mean taking calculated risks to improve the health of the overall woodland ecosystem.
Guidance on increasing diversity
We have produced a forest resilience Good Practice Guide on improving the tree species diversity of Welsh woodlands.
Forest Research guidance
Forest Research provide very useful silvicultural notes, reference documents and information on over 60 tree species that are either widely grown in British forests at the present time or which could play an increasing role in the future. They focus on those species which could be expected to produce usable timber in British conditions.
Seeing diversity in action
Places where you can see examples of these different species include Forestry Commission arboreta and forest gardens at Bedgebury, Brechfa, the Forest of Dean, Kilmun, Lynford, the New Forest and Westonbirt.
Other sources of information
Silvifuture is a network established to promote and share knowledge about novel forest species across Britain.
Natural Resources Wales is continuing to support research that will help us provide more information.
If you would like to contact the Sustainable Forest Management Team in Natural Resources Wales you can send your enquiry to sfmt@cyfoethnaturiolcymru.gov.uk
Related document downloads