Equality, diversity and inclusion annual report 2019-20
Strategic Equality Plan (SEP) 2015 to 2020

The SEP for 2015 – 2019 was extended by one year to enable use to synchronise with other organisations and allows us to work more collaboratively when it comes to time to re-consult the population of Wales.


Equalities Action Plan 2019 to 2020

Our 2018/19 Equalities Action Plan, which supported and helped to deliver our Strategic Equality Plan. An update on progress that has been reported.


Strategic Equality Plan (SEP) 2020 to 2024

We have been working in partnership with eleven public bodies to develop in the spirit of the five ways of working outlined in the Well-being of Future Generations (Wales) Act 2015. Working collaboratively we developed a set of Shared Equality Objectives, to help achieve the eight strategic aims of the Welsh Government. These eight strategic aims are to help address inequalities across Wales identified by the Equalities and Human Rights Commission (EHRC) most recent report 'Is Wales fairer?'.


Equalities Action Plan 2020 to 2021

Our new Equalities Action Plan for 2020 to 2021 sets out how we intend to achieve the SEP with clear measurable challenges to the organisation.


Self-disclosure

Our self-disclosure rates throughout the year have remained consistently high and we continue to have an organisational average of over 70%.
We will continue to encourage completion to maintain or exceed the current disclosure rates. We do however remember that protected characteristic self-disclosure is a voluntary process.


Self-Disclosure completion returns February 2020


| Area of business  | Completed EDI return | Not completed EDI return | Total | % Completed EDI return | % Not completed EDI return |
| --- | --- | --- | --- | --- | --- |
| Natural Resources Wales (NRW) | 1436 | 578 | 2014 | 71% | 29% |
| Communications, Customer and Information (CCI) | 36 | 14 | 50 | 72% | 28% |
| Chief Exectutives Office (CEO) | 1 | 0 | 1 | 100% | 0% |
| Corporate Strategy and Development (CSD) | 29 | 6 | 35 | 83% | 31% |
| Evidence policy and Permitting (EPP) | 381 | 144 | 525 | 73% | 27% |
| Finance and Corporate Services (FCS) | 204 | 58 | 262 | 78% | 22% |
| Operations (OPS) | 785 | 356 | 1141 | 69% | 31% |

Stonewall Workplace Equality Index

In September 2020, we entered our 8th submission to the Stonewall Workplace Equality Index (WEI).
Our Stonewall WEI history

Summary of NRWs Stonewall WEI journey


| WEI year | NRW ranking | Number of participants | NRWs position |
| --- | --- | --- | --- |
| 2014 | 296 | 369 | No Data |
| 2015 | 238 | 397 | Up 58 |
| 2016 | 160 | 415 | Up 78 |
| 2017 | 184 | 439 | Down 24 |
| 2018 | 132 | 433 | Up 52 |
| 2019 | 152 | 445 | Down 20 |
| 2020 | 152 | 502 | No Data |

The results show we have been rated as 152nd best employer in the UK, although our ranking has stayed the same in as much as we came 152nd last year as well, our actual score has increased from 94.5 to 100 and with more competition (there were 445 participants last year vs 502 this year), we are proud of this result. This means we have risen to the 14th best Welsh employer from the 19th. With all the work we have been doing since our submission in September 2019, we're optimistic that we will see yet another increase in the 2021 index and hopefully get closer to being in the UK WEI Top 100 Employers.
To close the year, six staff members and Zoe Henderson (board member) attended the Stonewall Workplace Equality Conference in February 2020. Amongst the guest speakers, Sophie Howe (Future Generations Commissioner for Wales) provided a speech on how the Wellbeing of Future Generations (Wales) Act 2015 is a unique opportunity to make a long-lasting, positive change to current and future generations including pioneering LGBT+ equality. Due to the number of attendees we were able to attend every break out session including topics such as understanding the intersectionality of being BAME (Black, Asian and Minority Ethnic) and LGBT, bi-awareness, supporting the mental health and wellbeing of your LGBT employees and empowering all staff to champion trans inclusion. We all took a lot away from this day, including some great networking contacts with other organisations, including the National Assembly for Wales and Welsh Government.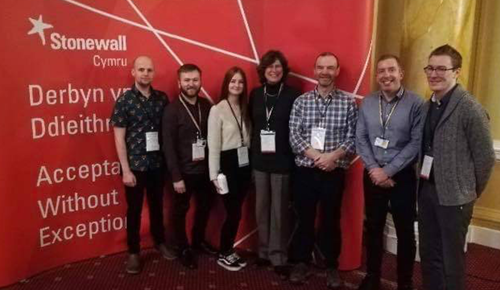 Organisational Development

An Equality Impact Assessment (EqIA) was completed on Organisation Design, prior to the launce of the Formal Consultation. The EqIA was undertaken to ensure there was no bias in the process, and that the nine protected characteristics were properly accounted for in the design.
Now that Organisation Design has been finalised, we will endeavour to undertake an assessment to identify any impact that Organisation Design may have had on protected groups.


Disability confident employer

In May this year, we succeeded in completing our self assessment exercise, resulting in The Department of Works and Pensions re-accrediting Natural Resources Wales as a Disability Confident Employer until May 2020.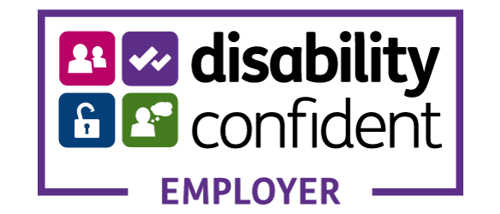 "Two ticks" guaranteed interview scheme

During the 2019 calendar year we continued to be 100% compliant with our 'Two Ticks' guaranteed interview scheme where applicants who declare themselves as disabled, in line with the Equality Act 2010 definition and meet the minimum criteria for the role applied for are automatically invited to interview.
Externally we received applications from 1704 people of which 37 (2.2%) people requested a guaranteed interview. 18 of those were invited to interview and the remaining 19 did not meet the minimum criteria.
Internally we received applications from 833 people of which 7 (0.84%) people requested a guaranteed interview. 5 of those were invited to interview and the remaining 2 did not meet the minimum criteria.


Gender Pay Gap at 31st March 2019

We have repeated our Gender Pay Gap analysis for 2018 and have reported that our headline figure is now 4.8%. In the UK, the pay gap has fallen from 10.5% in 2011 to 8.6% in 2018 (ONS), but remains positive in value – meaning that on average men are paid more than women


Summary of NRW's Gender Pay Gap
| 31st of March | Gender pay gap | Difference |
| --- | --- | --- |
| 2016 | 7.8% | No data |
| 2017 | 5.5% | Down 2.3% |
| 2018 | 4.8% | Down 0.7% |
| 2019 | 5.3% | Up 0.5% |

Our data will go live on the Gov.UK Gender Pay Gap Service as well as our own website pages in line with legislation and includes a breakdown of the number of females and males by quartile.


| Pay quartile | Number of male employees | Number of female employees |
| --- | --- | --- |
| Upper | 325 | 158 |
| Upper middle | 260 | 222 |
| Lower middle | 243 | 240 |
| Lower | 254 | 228 |

Equality policy

Policy review is an ongoing process and work will continue to ensure that they, and any new policies, are worded and applied in an inclusive manner.


Staff networks

Our EDI staff networks attend the quarterly EDI forum and continue to be active and healthy. As an organisation we continue to be productively challenged over issues that occasionally arise.


Assisted User Group (IT and Telephony)

We have a number of staff who use assistive technology such as the screen reader and speech to text software JAWS, Dragon Naturally Speaking, Zoom Test Reader, Dolphin Supernova etc. It is important we ensure that the Information Technology hardware and software as well as telephony systems do not disadvantage people. We meet on a "as and when needed" basis, and have a group set up on Yammer for users to be able to ask questions or to get resolutions to problems they may be having.
This staff network is key to ensuring our systems are usable by all staff and shares best practices with user group members and regularly user-tests newly proposed systems on behalf of the organisation.
We continue to provide advice to staff about making documents accessible to all and are still working to resolve the issues that we've encountered with assisted software and Windows 10. We have asked Destek (our accessibility contractor) to audit the software and provide a report to let us know what we need to do to resolve this.


Dementia Friends



NRW is nearing the end of its third year working to become an accredited Dementia Friendly Community. We have created our third action plan, for the period of April 2019 to March 2020, and we appointed a Dementia Friendly Project Advisor during December to help drive this work forwards.
Our focus this year is twofold, firstly to continue identifying dementia friendly projects, including reviewing facilities at our visitor centres throughout Wales and looking for further opportunities to work with PSBs and other partners in this area. Secondly we are strengthening our internal and external engagement, to point colleagues and customers to relevant resources, and to increase media coverage around our learning and successes and encourage others to follow our lead.
Looking forwards, we are considering how best to embed our aspirations in this work area into our organisational planning and reporting processes, to enable us to track and collate evidence of our progress.
Finally, we intend to submit evidence of work over the last three years to the Alzheimer's Society for consideration as Dementia Friendly Community of the Year (large organisation category) for 2020.


Cwtch, Care network

A new network was created to recognise, support and value our colleagues within NRW who care for their loved ones for a variety of reasons
The Cwtch network's primary aim is to provide a focus for organisational cultural change for our colleagues with caring responsibilities and for it to inform a more inclusive and diverse workplace going forward by:
Bringing people together to connect and talk about their caring responsibilities
The provision of a mutually supportive environment where everyone is heard
Sharing information and insight based on personal experiences and up to date research
Sign posting to sources of information and to other organisations that can help
By encouraging staff and managers to start a conversation about caring to promote better understanding and empathy and to encourage carers to come forward for support
A yammer groups has been set up, which is continuing to grow and currently has 36 members. Of the 155 individuals who have self-disclosed having caring responsibilities, this equates to 23% that we are reaching.


Calon, the LGBT+ staff network

Calon, NRW's Lesbian, Gay, Bisexual and Transgender (LGBT+) Network has been as active as ever this year. We've carried out a series of training sessions for staff this year including Inclusive Service Delivery, Role Models, LGBT Allies and Trans specific Allies programmes from Stonewall to a variety of teams and individuals.
We also engaged in some reverse mentoring sessions between Samantha Carpenter and Ben Reardon with Julia Cherrett. We covered coming out stories from Ben and Samantha, giving Julia an insight of what it is like for gay and trans people to come to terms with who they are and the impact this can have on their lives, as well as in work. Another board member, Catherine Brown, helped support the network by profiling herself on Lesbian Day of Visibility (26th April) and Zoe Henderson joined us at the Stonewall Workplace Equality Conference in February 2020. Having board members engaging with the network and kindly allowing us to share this with the wider organisation via intranet articles and Yammer posts, as well as external communications such as on our internet page and Twitter, really gives a high-level commitment to LGBT+ Equality.
We also attended the #TeamNRW day with our own stand at the 'market place' where Ben Reardon handed out Equality and Eiversity rainbow lanyards and a variety of Stonewall guidance packs on topics such as what to do if you think your child might be gay and the LGBT in Britain reports. This gave us a chance as a network to engage with lots of people from all over Wales who may not have approached or engaged with the network before. We're looking forward to future #TeamNRW days and developing what we can deliver at these days.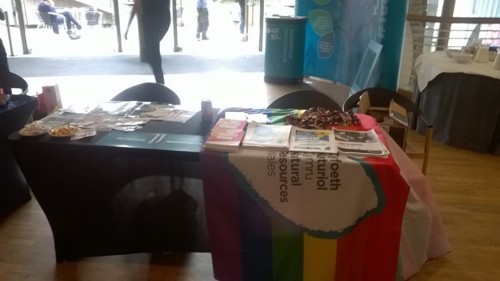 In August 2019, Calon took part in the Pride Cymru parade, with a group of over 20 staff along with friends, family and partners. We marched through the streets of Cardiff with our branded pride flags and newly commissioned e-car which had been permanently decorated with the LGBT pride and trans flags. This vehicle is now a permanent addition to the fleet in Ty Cambria, with hopes to get at least one more car for Maes y Ffynnon decorated in the same design. The pride parade was an excellent opportunity for us to show publicly that NRW stands up proudly for LGBT equality and was a great social opportunity for the network members. The group then met up for a night out a few weeks later for our (unfortunately, only!) Calon cocktails night. We're hoping to do these more regularly across Wales where possible but have noticed that working-life balances as well as location based difficulties make regular socials a struggle to arrange.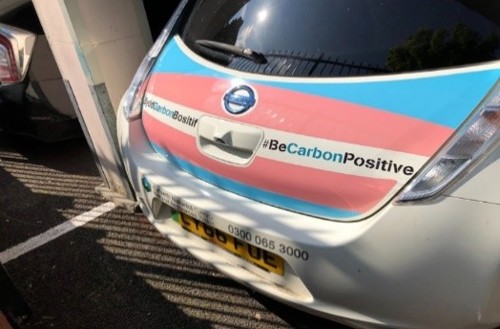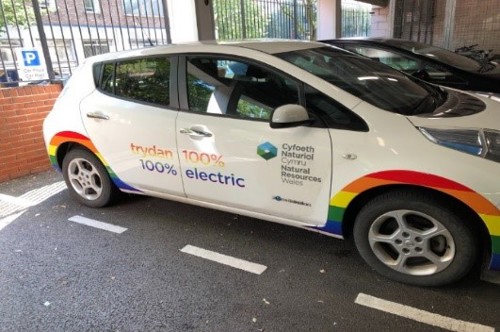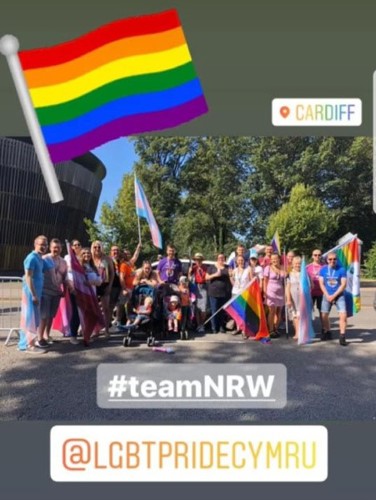 See our equalities analysis of #TeamNRW
See our equality, diversity and inclusion action plan 2019-2020