Helping visitors with disabilities decide if a trail is right for them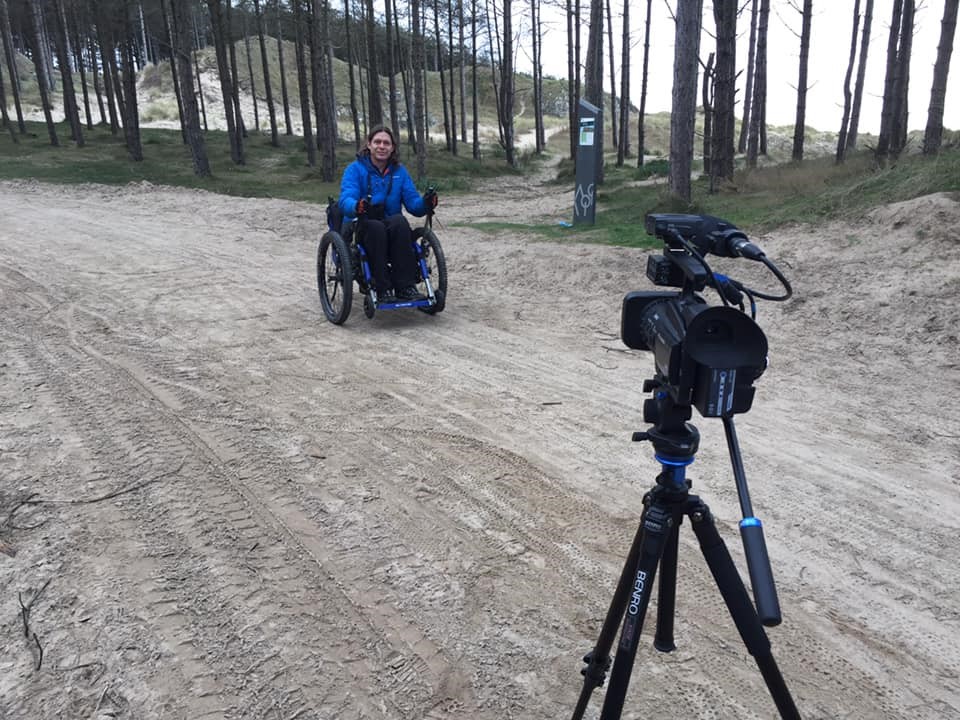 At Natural Resources Wales, we aim to make the outdoors inclusive and accessible so everyone can enjoy Wales' diverse landscapes.
Over the last few years, the Outdoor Access and Recreation team has worked on a variety of projects from employing disability organisations to carry out site and trail assessments, to producing guidance for land managers.
Here, Rachel Parry from the team talks about a recent project to improve the information we provide on our trails to give people with disabilities the confidence to explore new places and routes.
For a while I thought I knew what 'accessible' meant and what the underlying principles were for enabling accessibility. Because it's straightforward, isn't it? Accessible just means good quality surfaces, level paths, no gradient, right? Not quite, not always.
Equipment such as off-road mobility scooters and adaptive bikes and trikes can help people to access more challenging and adventurous routes, which means that the definition of what is accessible is personal and constantly changing.
Pre-pandemic, I came across an organisation called Experience Community, which is dedicated to improving opportunities for disabled people to get into the outdoors - and that means highlighting, promoting and providing information about trails with some gradient, sometimes uneven surfaces and a level of challenge.
Accessibility is an individual decision
The approach taken by Craig Grimes at Experience Community is to make films of disabled people using adaptive equipment to negotiate a trail.
In his films, Craig doesn't actually say what is or isn't accessible, he simply makes an honest film about what something is like so people can make informed choices about whether it's suitable for their individual needs or not. He also does not prescribe what equipment someone should use, nor does he name what is being used in each film, leaving this decision up to individual choice and circumstances. Description not prescription!
After all, everyone is different and what might be suitable and desirable for one person, might not be for another.
In this way visitors with disabilities, and their family and friends, can get a clear idea whether that trail and site is accessible to them. And it is by providing visual information that these less-obviously accessible trails become an option for more people to experience.
Making more NRW trails available to people with disabilities
We decided to run a pilot project with Experience Community to create films about some of our trails, adding to the information we already provide for visitors. Working with local site managers, we drew up a shortlist of trails which didn't fall into the obviously accessible category, but which could offer some challenge to people with disabilities and open up more of the Welsh landscape.
Experience Community went out to each site with the local manager to assess which trails were suitable for filming, settling on a total of seven trails at four of our sites (Newborough Forest, Coed y Brenin Forest Park, Beddgelert Forest and Afan Forest Park).
After several challenges (not least of all some appalling weather which meant that some of the footage couldn't be used, followed by a pandemic!) Experience Community delivered the finished films.
Each film shows one of these longer and more challenging trails that people with adaptive equipment can use. The films show route surfaces, uphill and downhill gradients and elevation – all described by a disabled person as they negotiate the route.
The films have been included in a new accessible visits section on our website and each one has both voiceover and subtitles available in English and Welsh, making them digitally accessible too.
The new website section also includes full details of our accessible walking trails, which are barrier-free, wheelchair-friendly routes that are suitable for everyone.
Helping people make informed choices
We want to empower people to make the decision about whether a route is suitable for them and their equipment, rather than us telling them that something is suitable or not.
Our new films allow visitors to see the kinds of surface, gradient, elevation and path condition they can expect to find before they make the decision to visit. They can then work out whether their equipment would work for them on that route and whether they will need help on certain stretches.
We hope that this kind of visual information will give people the confidence to try new places and routes.
Continuing to improve access for all
We plan on creating visual information in the form of films and photo-trails at other locations, to make more of our trails available to people with disabilities.
If you would like to know more about our work to improve access for all, you can:
If you want to know more about Experience Community's work, have a look at the Experience Community website to see some of the films they created for other organisations such as Yorkshire Water, National Trust and National Parks.