Cors y Llyn National Nature Reserve, near Builth Wells
Discover a wildflower meadow, swampy woodlands and a dwarf forest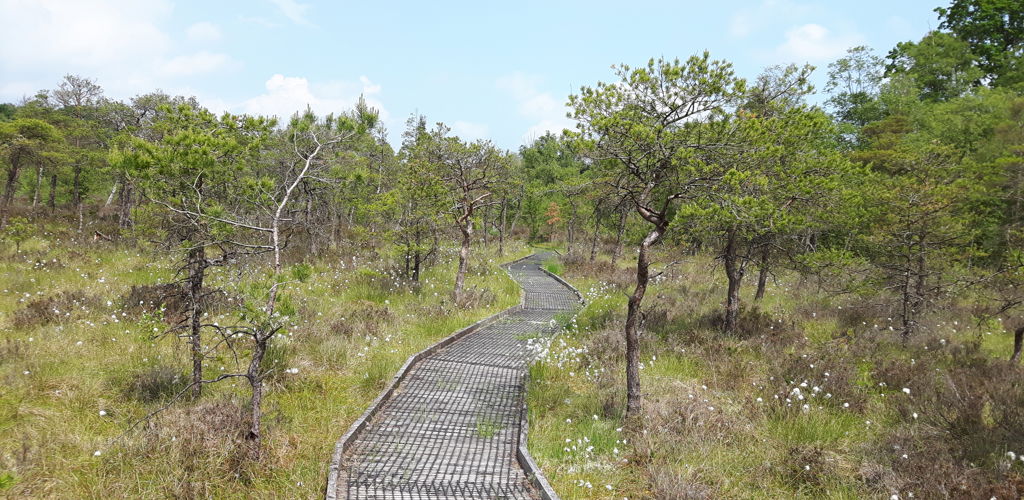 Coronavirus update
Our sites and most visitor facilities are open but, under the current coronavirus restrictions in Wales, this is intended only for the use of people who live locally.
You are strongly advised – in line with current Welsh Government regulations – not to drive to any of our sites to exercise unless you have specific health or mobility issues.
We have changed the normal route for some of our trails to help you maintain social distancing – please follow signs on site.
Welcome
Cors y Llyn means "Bog of the Lake" and the expanse of bog and fenland at this National Nature Reserve was once a lake.
The two basins which form the core of the reserve were originally carved out by glaciers during the last Ice Age and filled with meltwater.
Over thousands of years, they gradually became choked with vegetation, stones and earth, to create the rich, mixed habitats at the reserve today.
One of the best wildflower-rich meadows in mid-Wales is at the reserve entrance and some of the trees in the boggy section are over 100 years old even though they are only a few feet tall!
The reserve is tucked away but it is worth seeking out if you are in the area. There are so many different habitats and wildlife species in this small and peaceful spot, and the stunted trees give it a rather magical feeling.
There is a short walking trail with a boardwalk which is accessible for wheelchairs.
National Nature Reserve
Cors y Llyn is a National Nature Reserve.
National Nature Reserves are places with some of the very finest examples of wildlife habitats and geological features.
There are over 70 National Nature Reserves in Wales.
Find out more about National Nature Reserves.
Wildflowers and plant-life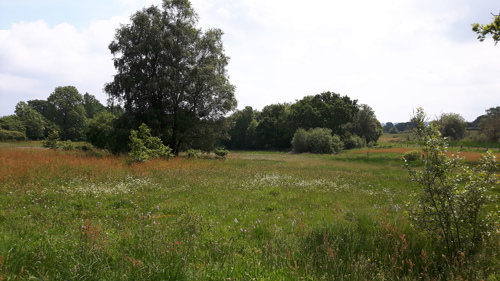 Over 100 flowering plant species have been recorded in the meadow, including heath-spotted orchid, carnation sedge, lesser skullcap and sneezewort.
The two basins support a range of acid-loving plant-life, with abundant bog-mosses, ling, cranberry, cross-leaved heath and the insectivorous round-leaved sundew. At the edges, there are patches of bog asphodel.
The southern basin has its own distinctive character: the Scot's pine here is severely stunted, Scandinavian style, because of the water-logged peat.
A ribbon of birch wood and fen surrounds the bog.
Seasonal highlights
Spring
Look out for pale-pink patches of colour in the meadow – these are the cuckoo flower which is one of the first flowers to bloom in very early spring.
A host of spring flowers follow this early display, including the heath spotted orchid, marsh violet and meadow thistle.
Summer
The meadow is at its best in summer with its wealth of wildflowers attracting lots of butterflies on warm, still days.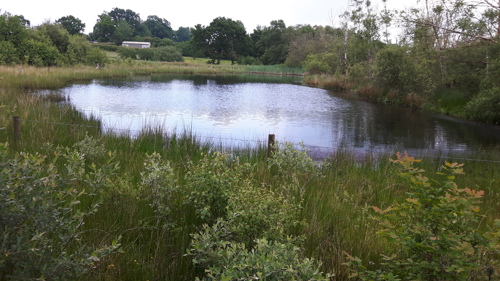 There is a colourful display of damselflies and dragonflies near the pond in summer, too, including some larger ones like the emperor and the southern hawker.
If you're in luck, you might have the rare privilege of spying a hobby, catching these insects on the wing.
Look out for pied flycatchers, redstarts and wood warblers – the Welsh oak woodland summer visiting trio.
Autumn
The brightly coloured mosses and lichens will help to brighten up even the dullest of days.
Listen out for the croak of the common frog as you walk past the damper areas.
You may also catch sight of a common toad and palmate newt.
Winter
Birds that visit the reserve during winter include woodcock and snipe.
Walking trail
The walking trail is waymarked and starts from the car park.  
Waterproof shoes or boots are recommended for visits between autumn and early spring as water can seep up through the boardwalk.
Please keep to the boardwalk and paths – there are areas of deep open water and deep steep-sided pools covered with floating vegetation.
Cors y Llyn Walk
¾ mile, 1.2 kilometres, accessible
Just beyond the gate, the path goes alongside the wildflower meadow and then skirts around a pond where there is a bench to enjoy the view.
The boardwalk then winds through the swampy woodland and past the stunted forest, before a gentle incline back to the car park.
Accessibility information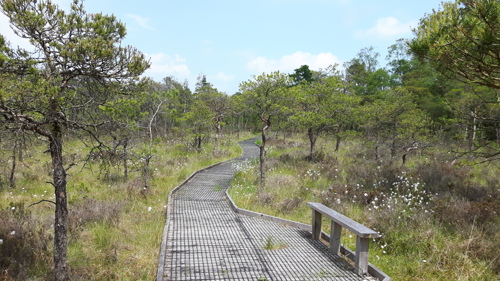 The paths are level and mesh-covered paths and the boardwalk is accessible.
There are seats and passing places for wheelchair users.
Closures and diversions
Please note:
Sometimes we need to close or divert trails for your safety whilst we undertake maintenance work
Occasionally we may have to close a site in extreme weather, such as high winds or snow and ice due to the risk of injury to visitors or staff
Please always follow any instructions onsite and make sure you follow any temporary diversion signs in place
How to get here
Location
Cors y Llyn is 3½ miles north west of Builth Wells.
It is in the county of Powys.
Parking is free of charge.
Directions
Take the A470 from Rhayader towards Builth Wells. Immediately after driving through the village of Newbridge on Wye, turn right onto a minor road (the former A470 which runs parallel with the new A470 road south towards Builth Wells). Continue along this road for approximately 1½ miles, go over a stone bridge and take the next turn right opposite a cottage with dormer windows. Follow this narrow lane for about ¼ mile, proceed with care through a privately-owned yard and head for the far left hand corner from where the road continues out of the yard and on to the Cors y Llyn car park.
Ordnance Survey map
Cors y Llyn is on Ordnance Survey (OS) map 200.
The OS grid reference is SO 016 556.
Public transport
For details of public transport visit the Traveline Cymru website. 
Contact details
Tel: 0300 065 3000
Related document downloads