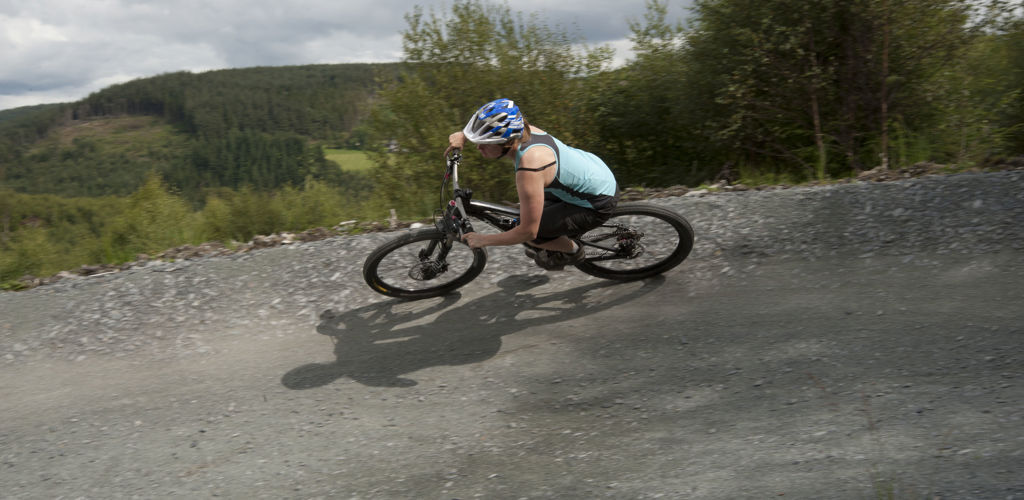 Coronavirus update
All Natural Resources Wales (NRW) car parks, play areas and toilet blocks in the reserves, woods and forests are closed from 23 March 2020.
Mountain bike trails are now closed. No maintenance is being carried out until further notice on mountain bike trails
For more information see our main page on coronavirus
Where can I go mountain biking in Wales?
Whether you are a newcomer to mountain biking or an experienced rider, there are plenty of places to go mountain biking in Wales.
Mountain biking trails and other features such as uplifts and downhill runs are provided by a range of organisations all over Wales, including Natural Resources Wales.
What information can I get on mountain biking?
See the MB Wales website for details about all the mountain bike trails provided by organisations across Wales plus the latest information about events.
If you are looking for a cycle track or bridleway or want other information about cycling see our cycling page.
How do I know which mountain bike trail is right for me?

The mountain biking trails are graded to give you an indication of their difficulty.
These grades are based on the observation and skills of experienced trail managers and riders.
The grades take account of:
the trail surface
gradients
technical features
level of fitness needed
Please also read the relevant onsite information before setting off on your ride.
If you are a newcomer to mountain biking, you should ride within your ability.
Don't forget that the weather can change quickly and other factors such as fatigue can increase the difficulty of a trail.
What advice and guidance can I get?
Forest Cycle Code
ALWAYS WEAR A HELMET and follow the Forest Cycle Code:
Consider wearing other protective clothing
Take the time before riding a trail to check out the trail head grading information
Are you confident about what the grading means?
Do you really have enough experience for your choice of trail?
Are there any detours?
You want to get out and ride the trail, here's a quick checklist:
Do you have a trail/route map?
Are you carrying spares - an extra inner-tube, for instance?
Can you repair a bike on the trail if you need to?
For longer rides you'll need food and water
What about your fitness and stamina?
Many accidents are caused through fatigue - don't join that club!
Think about the weather. Do you know the forecast? Bear in mind that the weather at the trailhead might be fine, but further up the hill, it could be colder
What about the trail conditions? Has it snowed or rained?
Best practice videos
Trail etiquette
There are few things better than experiencing the freedom of the trails on two wheels but, to make them an enjoyable experience for all and to preserve the environment, there are some simple rules of etiquette you should follow.
Watch the trail etiquette video below, which was produced by British Cycling and features some of our trails.
Trail techniques
Check out the rest of British Cycling's series of mountain bike skills videos to learn essential trail techniques and prepare for a fantastic day out.
Tree disease
Find out how you can help prevent the spread of tree disease. 
Where are the mountain biking trails in woodlands managed by Natural Resources Wales?
The woodlands and forests managed by Natural Resources Wales are home to some of the most famous mountain biking trails in the country.
There are also some family friendly routes and areas for beginners and improvers to develop mountain bike riding skills.
All of our mountain bike trails are waymarked.
North Wales
Coed Moel Famau, near Mold:

Moel Famau Country Park is at the heart of the Clwydian Range Area of Outstanding Natural Beauty. The Ffridd Mountain Circular (12.2 kilometres, grade blue) meanders its way through Coed Moel Famau, climbing steadily to a high point at the edge of the trees with spectacular views over Merseyside and beyond. This route is also the start and finish for several longer rides in the Clwydian hills

Coed y Brenin Forest Park, near Dolgellau:

This was the first purpose-built mountain bike centre in the UK. It is still the largest with eight mountain bike trails ranging from forest roads suitable for beginners to black graded trails for proficient riders. There is also a skills area for new riders to learn and develop riding techniques and a shop offering bike hire, repairs and the sale of bikes, clothing and accessories

Gwydir Forest Park (Sawbench car park), near Llanwrst:

Situated in the heart of the Snowdonia National Park, the red-graded Marin Trail is one of the longest established mountain bike trails. Its big climbs, singletrack descents and stunning scenery mean that it is still held in high regard by many riders
Mid Wales
Bwlch Nant yr Arian Forest, near Aberystwyth

: Home to three of the finest mountain bike trails in Wales, famous for their long singletrack runs and superb views. Two of the trails are graded red and one is graded black and they are suitable for experienced riders only
South Wales
There are also community-managed mountain bike trails in two of the woodlands that are managed by Natural Resources Wales.
The Cli-machx Trail in Dyfi Forest, near Machynlleth is renowned for its black grade, fast downhill finish
The Penmachno Trails in North Wales are split into two loops, which can be ridden individually or as one 30 kilometre ride
What information can I get about the mountain biking trails managed by Natural Resources Wales?
There are various sources of information about the mountain bike trails in woodlands managed by Natural Resources Wales:
Click on the links in

Where are the mountain biking trails in woodlands managed by Natural Resources Wales?

to find out more about the mountain bike trails and other facilities in each woodland
Download our free PlacesToGo smartphone app which includes all of our mountain bike trails along with information on recreation facilities in woodlands and national nature reserves in Wales
See the information panel at the start of all our mountain bike trails
How do I find out about route closures and diversions?
Sometimes a public right of way has to be closed or diverted.
Signage on-site should tell you whether a public right of way is open or closed.
For more information about how exclusions or restrictions are applied to open access land, go to managing access
How do I get permission for a mountain biking event in a woodland managed by Natural Resources Wales?
Go to Woodlands and You to find out how to get permission to organise a mountain biking event in one of the woodlands managed by Natural Resources Wales.
The Countryside Code
The Countryside Code applies to all parts of the countryside in England and Wales.
It aims to help everyone respect, protect and enjoy the outdoors.
You can download a copy of the Countryside Code before your ride.