Llangloffan Fen National Nature Reserve, near Fishguard
Welcome
Llangloffan Fen National Nature Reserve is part of the largest floodplain in Pembrokeshire.
A wide range of plants and wildlife are supported by the reserve's habitats of dense fen and reed swamp, wet woodland and marshy grassland.
This mix of habitats developed after the river that once flowed through the valley was forced to forge a new course around 12,000 years ago after a glacier dumped clay and other materials here.
We look after this wetland habitat by ensuring that the water level is never allowed to drop too low, and we allow cattle and ponies to graze on the fen in summer and autumn to keep the vegetation in check.
The best way to experience this special landscape is to follow the wheelchair-accessible boardwalk over part of the reserve.
Walking trail
The walking trail is waymarked from start to finish.
Look out for the information panel at the start of the trail.
Find out about walking trail grades.
Llanglo­ffan Fen Walk
Grade: Accessible
Distance: 1 mile/1.5 kilometres (there and back)
Time: 1 hour
Trail information: The Llanglo­ffan Fen Walk follows a boardwalk from the entrance of the reserve and returns along the same route. The boardwalk is suitable for wheelchair users and people with prams or pushchairs. Please stay on the boardwalk as the ground is soft and waterlogged, and flooded ditches may be hidden by dense, floating vegetation.
Discover the fen, swamp and wet woodland on our fully accessible boardwalk.​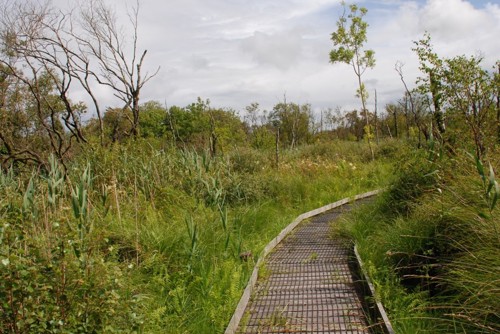 What to see at the National Nature Reserve
Along the wetter parts of the reserve, the wonderful frothy cream blooms of meadowsweet fill the air in summer with their delicious scent as they push through the reeds and sedges. Also look for:
huge clumps of greater tussock sedge
reed canary grass
common reed
greater pond sedge
The wet woodland has an ancient feel, its trees cloaked in velvety mosses and silvery lichens. Other plants here include:
marsh fern
royal fern
wavy St John's-wort
great fen-sedge (one of only two known locations for it in Pembrokeshire)
Along the river there are:
demoiselle damselflies, shimmering with iridescent green
grass-snakes and diamond-patterned adders
water shrews
the elusive otter
Birds to look or listen out for include:
mallard ducks
moorhens
water-rails
snipe
reed bunting
grasshopper warblers
sedge and reed warblers
birds of prey, attracted by the rich pickings here, including buzzards, kestrels, sparrowhawks and barn owls
National Nature Reserves in Wales
There are over 70 National Nature Reserves in Wales.
National Nature Reserves are areas of the countryside where special examples of Britain's habitats and wildlife are protected.
Find out more about National Nature Reserves.
Visiting Llangloffan Fen safely
Please stay on the boardwalk - flooded ditches are often hidden by floating and dense vegetation and there is soft waterlogged ground.
The river has deep pools, and its level may rise quickly after heavy rain.
The river banks are steep-sided, often undercut and may be overgrown.
Keep dogs on leads as cattle or ponies may be grazing in summer and autumn in barbed wire enclosures.
If you come across adders or snakes please leave them alone.
Wildlife Trust of South and West Wales
The western part of Llangloffan Fen National Nature Reserve is managed by the Wildlife Trust of South and West Wales.
This part of the reserve has a circular path from a parking area on the B4331 to a bird hide overlooking an area of open water.
For more information go to the Wildlife Trust of South and West Wales website.
Closures and diversions
Sometimes we need to close or divert trails for your safety whilst we undertake maintenance work or other operations.
We may have to close a site in extreme weather, such as high winds or snow and ice, due to the risk of injury to visitors or staff.
Please always follow any instructions on site and any temporary diversion signs.
How to get here
Location
Llangloffan Fen National Nature Reserve is 6½ miles south west of Fishguard.
It is in the county of Pembrokeshire.
Ordnance Survey map
Llangloffan Fen National Nature Reserve is on Ordnance Survey (OS) Explorer map OL35.
The OS grid reference is SM 904 319.
Directions
From Fishguard take the A487 towards St Davids.
Turn sharply left onto the B4331 signposted to Castlemorris.
Go past the Wildlife Trust of South and West Wales car park on the left and take the next left at a crossroads, signposted to Hayscastle Cross.
Follow this minor road for ¼ mile and the lay-by parking area and reserve entrance is on the right, just before the road goes over a stone bridge.
Public transport
The nearest mainline railway station is Fishguard and Goodwick.
For details of public transport go to the Traveline Cymru website.
Parking
Parking is in a lay-by.
Car parking is free of charge.
Overnight parking is not permitted.
Contact details
There are no staff at this location.
Contact our customer team for general enquiries during office hours, Monday to Friday.
Related document downloads